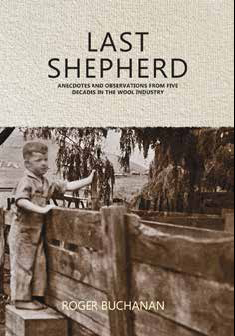 Meat and wool have a symbiotic relationship and industry's recent woes have shown the importance of the latter to sheep farmers incomes and the meat industry. A new book by the Wool Board's final chief executive Roger Buchanan has recently been published and could help shed light on what happened to wool.
Buchanan has been intimately involved for  over 50 of the wool industry's turbulent years – from the shearing shed on the family farm to overseeing the dismantling of the Wool Board as its final chief executive.
The publicity says that Last Shepherd has been written from a front seat in the industry roller coaster. "It is autobiography, industry history, analysis of the industry and its politics – peppered with many fascinating anecdotes. Roger Buchanan uses his unparalleled position to frankly analyse the successes and failures of the statutory wool bodes. What has happened to New Zealand wool? And where have all the sheep gone?"
Last Shepherd: Anecdotes and observations from five decades in the wool industry, by Roger Buchanan, April 2013, is published by Mahico.
Kindle ISBN: 978-0-473-24209-1 US$11.95 from www.amazon.com,
Epub ISBN: 978-0-473-24210-7 NZ$13.95 from www.mebooks.co.nz
Print ISBN: 978-0-473-22787-6 (paperback), NZ$45.