Exports of meat and edible offal led a rise in exported goods in April, according to newly released figures from Statistics NZ.
Exports rose overall by $83 million (2.2 percent) to $4 billion compared in April 2013, compared to April 2012, says Stastics NZ. Of tho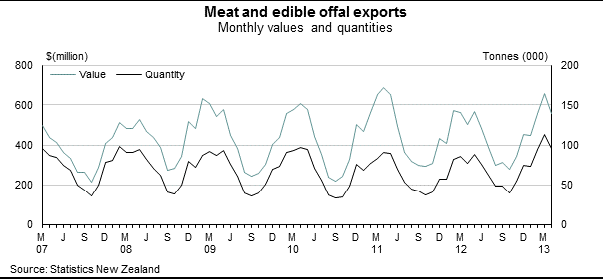 se, meat and edible offal exports increased the most rising by $57 million (11 percent). Exports of lamb cuts led the rise. They were up $25 million (18 percent), while frozen boneless beef also contributed to the increase, up $15 million (8.8 percent). This followed a rise in meat exports in March 2013, up $94 million from March 2012, led by beef.
The number of lambs slaughtered for export rose by 22 percent in the March 2013 quarter, compared with the March 2012 quarter, partly as a result of the drought. The number of cattle slaughtered rose 29 percent.
More goods were exported to Australia than China in April 2013, says Statistics NZ. However, from January to March 2013, exports to China were greater than to Australia. Even so, exports to China rose by $134 million (26 percent) to $654 million in April. This was led by frozen boneless beef, frozen lamb cuts, whole milk powder and infant food preparations.
A $77 million (19 percent) fall in value was recorded for exports to the US during the April month, led by natural milk constituents, casein and caseinates and meat and edible offal (both beef and lamb).
Overall, the value of imported goods rose $263 million (7.4 percent) to $3.8 million in April 2013, compared with April 2012. The trade balance for April 2013 was a surplus of $157 million. April months have been in surplus since 2009.