Scion Research scientists have been working to iron out a wrinkly packaging problem for the meat industry. They have found a subtle change in design for the corrugated cardboard used in meat cartons could potentially save money and energy, by optimising the freezing time required and saving energy.
A paper on work in this field was presented by part of Scion Research's packaging research team at this year's New Zealand Institute of Food Science and Technology (NZIFST) conference in early July.
Over 680 million versatile and cost-effective corrugated board boxes are used each year in the export of frozen foods from New Zealand, including lamb, mutton and beef, explains Scion's packaging research leader Lou Sherman. These are robust, recyclable, sustainable, printable, are already part of factory logistics and provide an insulation layer for the meat, once frozen.
However, because of the insulation properties it takes more time to freeze meat cuts using conventional cartons, which are typically frozen in a blast freezer for 48 hours at -26°C ambient temperature, Sherman explains.
In order to optimise the material specification the team used computer models to look at different scenarios for freezing. For example, a 27kg box of offal which had a starting temperature of 24°C, cooled by -25°C air at a velocity of 2ms-1 to -18°C.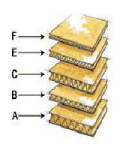 "The results showed introducing a new paper and reducing the flute thickness to B-flute would enable the product to be frozen 10 percent faster it was found, compared to four percent faster using the new paper with C-flute option. Alternatively, higher cooling temperatures could be used over the same cooling period resulting in an energy savings of eight percent," says Sherman.
Further to improved thermal conductivity, the experiments conducted as part of the project also indicated that it could be possible to improve the strength of the paper, which would enable a change from C to B flute.
According to Sherman, the next stage will be a commercial reality check along with pilot production of the new corrugated board, testing of the new boxes in blast chillers and/or freezers and working to understand the secondary benefits, such as the thawing rate in market."
This article has appeared in Food NZ magazine (October/November 2015) and is reproduced here with permission.