The first quarterly Rabobank Rural Confidence Survey of the Year is showing sheep and beef farmers are feeling less confident about expectations of their own farming operations.
While the Survey's overall results show an optimistic note, with a significant jump in the country's rural confidence levels, driven by a renewed confidence in the outlook for the rural economy by dairy producers, sheep and beef farmer sentiment remains stable, reports Rabobank, although with flagging expectations of their own business performance.
While sheep and beef farmers reported similar levels of overall confidence to the previous survey, they were considerably more bearish about the expectations of their own farm operations. After registering a spike the previous survey, only 21 percent of sheep and beef producers now expected their farm business to perform better over the next 12 months (down from 75 percent last quarter). Of the others in this sector, 21 percent expected business performance to worsen (up from two percent previously) and 55 percent expected performance to remain the same (up from 24 percent).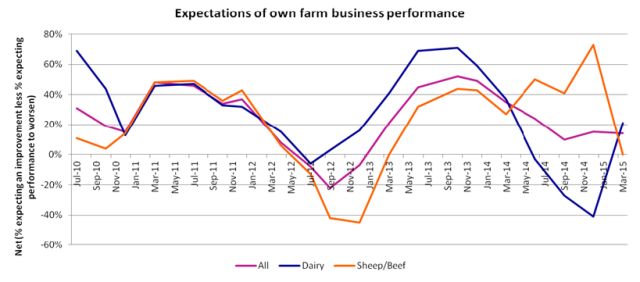 Rabobank chief executive Ben Russell says the deterioration in outlook was likely due to the dry weather conditions that had been impacting many regions and had forced livestock farmers into de-stocking at lower prices than had originally been expected for the season.
"This is particularly the case for lamb, where prices have moved almost 10 percent lower than a year ago," he says. "Beef prices have also retreated from the record high levels seen in late 2014, although they are still some 10-20 percent above last year."
Russell also noted that the investment appetite of sheep and beef farmers had declined.
"Only 28 percent of sheep and beef producers now expect to increase investment in their business compared to 41 percent with that intention last survey."